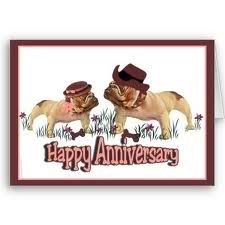 Wow, 2 years! I can hardly believe it. The strange thing is that 2 years is a very VERY long time! It really seems much longer, in fact I had to double check to make sure it had not been 3.
So much has been accomplished in 2 very short years. So many bulldogs have been saved!
I cannot even explain how proud I am to not only be the owner of this forum, but just to be a part of this community- it is truly an honor.
I have never met so many selfless, wonderful, helpful, funny, and caring people in my whole life. Oh, here comes the teary eyes. I cannot tell you how proud I am when I see one member help another. How happy I am when a member joins in and becomes part of the family. How grateful I am to see members spend their time and love to help other bulldogs in need. How heartbroken I am when a bully is sick or carries on to the rainbow bridge. As I read and read everyday for the past two years, I continue to be on an emotional roller-coaster. Honestly I do not remember, nor do I care, what life was like before we created this forum. It is a lot of work everyday, but so worth it when we see all the bulldogs getting saved or getting the advice and help they need.
Why is this forum so great? How did it become what it is?
Well, of course it is the registered members who have dedicated time in their days, weeks, months and years to come here and help others. Each member who posts a new topic or replies to a topic. Our moderation team who spends countless hours planning events and offering suggestions to help make our forum even better. Our Rescue Moderators who spend hours each week cross posting English Bulldogs from various rescues throughout the USA & Canada. Our newly formed Press Team who help keep our articles up to date and create new fun information to share. Our Hospice Sponsors, who donate a small amount each month to help an older bulldog in rescue. Our Community Veterans, who have been around the English Bulldog News boards for awhile and also post frequently and receive good feedback from other members. Our 4 Paw members, who help with voting on events and help EBN pay for our online costs. Those members who donate items to our Auction Events, that raise thousands of dollars for bully rescue every year.
Whether you joined the site since it just began, or just signed up yesterday, each person who types even a single word onto our forum becomes the fabric of our community.
All I can say is WOW. WOW!!!! I LOVE YOU GUYS!!! Thank you all for being a part of EBN.
Now for the fun part, here is your winners of the 2012 Anniversary Awards!
CLICK HERE TO SEE THE WINNERS!
I hope everyone enjoyed the Anniversary Awards, here is to another year of endless bully-talk!