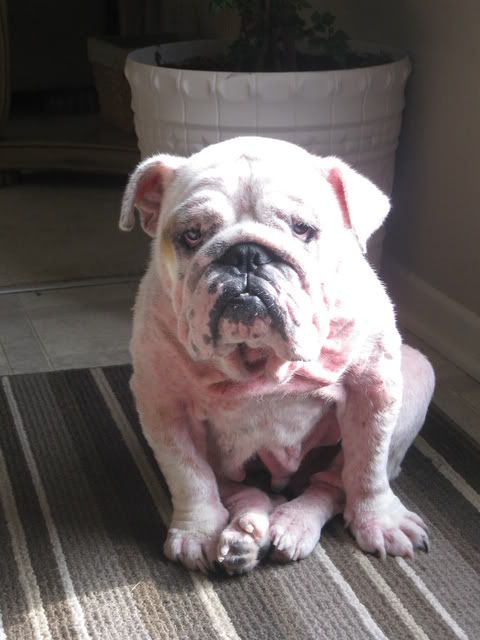 Sugar Boo is one of hundreds of English Bulldogs who are rescued by English Bulldog Rescue organizations each year.
Each year, hundreds of English Bulldogs end up in shelters and rescues across the USA, Canada, and all over the world. And each and every one of these dogs have a story to tell.... if only they could talk to tell us their story. Many get adopted from shelters quickly, when they are in good health. But so very many end up in high kill shelters, get passed from home to home, and are just trying to survive on the streets. This is where bulldog rescues come in.
Many bulldogs are surrendered by families, but many are also saved by good Samaritans who may see one who is stray, tied up in someone's yard, or see that they are not being cared for by their owners. Most of the bulldogs who come to rescue organizations are in poor health. Rescues have volunteers and foster families to help rehabilitate these voiceless souls, and many can take months of surgeries and care before they can even be adopted. The cost of the vet care, food, medications, supplies.... all of this has to come from somewhere because you can imagine the adoption fee is never enough to cover these costs.
The internet and social networking has been a blessing for these rescues. New ways of helping raise funds, donations, sharing adoptable dogs.... these are not luxuries that rescues had just a few years ago.
When we started this forum, we had a dream. We wanted to help English Bulldog owners care for their bulldogs. Never could we have imagined that just a year later, we would be able to help raise thousands for English Bulldog Rescue. Never could we imagine that we would have the best group of bulldog lovers out there that would not only help bulldog owners in need with a word of advice, but also do SO MUCH MORE!
We have an awesome team of rescue moderators that share the stories of bulldogs who are out there RIGHT NOW, looking for new homes. Visit these bulldogs today and maybe, just maybe, one of them is your future fur-mate!
CLICK HERE TO VIEW AVAILABLE BULLDOGS FOR ADOPTION ACROSS THE USA AND CANADA
We have our Hospice Sponsors, who donate to the older bulldogs who are forever in rescue and help pay for their long term care. Please visit our Subscription page of Hospice Bulldogs today, and for just $5 a month you can help a bulldog in need. All you need to do is sign up, and the funds will be taken every 30 days. All for the cost of a couple cups of coffee!
CLICK HERE TO BECOME A HOSPICE SPONSOR
Our photo of the month contest prize now gets donated to English Bulldog Rescue. Enter your photo today!
CLICK HERE TO ENTER OUR MONTHLY PHOTO CONTEST
Finally, we have two rescue auctions a year to help raise funds for English Bulldog rescues. This auctions funds will be divided between 5 rescue organizations across the USA. Southern California Bulldog Rescue, Detroit Bulldog Rescue, Buddies Thru Bullies, Indiana Bulldog Rescue, and Mid Atlantic Bulldog Rescue.
We must say we are very proud of the members here, who banned together and helped make English Bulldog News more than just a forum of bulldog lovers! We are, as a group, able to do so much for each other and for the bulldog community from right here in the USA to countries all over the world. Please share us with your bulldog friends and let them know if they ever have a bulldog question, please come here and visit us!
This month's auctions items were all donated by members of this awesome community. We have 84 items up for bid, and please note that there are THREE PAGES of auctions available to you!!! See image below, there is 3 pages in the right corner of your screen.
CLICK HERE TO GO TO THE AUCTIONS NOW!
Auctions will close on Sunday, August 14th at midnight EST
Important information:
100% of the proceeds of this auction go to English Bulldog Rescue Organizations!!!
To bid on this auction, just simply name your price in the topic each item is posted in. Next user/bidder should bid a
minimum
of $1.00 higher than the first!!!
PLEASE NOTE: A $5 shipping is added to each auction to anywhere in the USA. We are doing a flat $5 for each auction no matter the size or weight to help cover shipping costs and supplies. If there is any access funds this will be donated to the rescues.
Example, if you win an item for $25, your total due will be $30 to include shipping.
International Bidders: Are welcome!!! But will need to pay additional shipping costs if the shipping charge does not cover the shipping cost.
If you are the winning bidder you must log in to English Bulldog News and check your personal messages for further instructions on making payment. If winning bidder does not respond & pay for the auction within 5 days we will try to contact the runner-up bidder.
Winning bidders will need to make their donation via PAYPAL. Please do not bid if you do not have a Paypal account.
Signing up for paypal is easy, just visit
www.paypal.com
today to get started!
Thank you very much for participating in this fundraiser, and thank you to all the members who donated items to our auction.