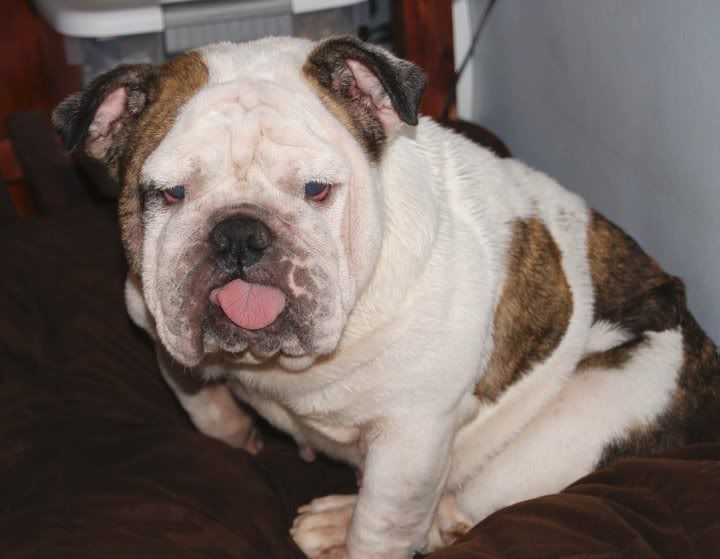 Honey
Wally
Bandit
Butch
I would like you to meet 4 new bulldogs who are going to be in our Hospice Sponsorship program. Meet Wally, Honey, Bandit and Butch!
With the recent loss of our beloved Pearl, I decided to get to work right away on helping other bullies in her honor. Reading her story so many months ago, probably even almost a year ago..... it has left a footprint on English Bulldog News forever. Her story that touched the hearts of all of her sponsors, who helped us bring to life the sponsorship program, will now help many more bulldogs in the future. All of this just from a story. Sharing and telling others about these things can make such a huge impact on so many. You could tell one person, and that could be knowledge that is spread to hundreds. So keep telling your friends about bully rescue, you NEVER KNOW who is listening!
Wally has also been in the care of SCBR for a very long time. As a matter of fact, he was one of the first bullies to be listed on English Bulldog News! I am proud to inform you all that all of Pearl's sponsorships will be transferring to this handsome guy.
.... but Honey, Bandit and Butch still need our help!
To learn more about Hospice Sponsorship, please view
THIS ARTICLE
or
CLICK HERE
to sign up now for just $5.00 per month!

EDIT: I am so sorry to announce that Wally has gone to the Rainbow Bridge already. Unfortunately we were too late to help him, but many others out there gave Wally so much love and support for the year he was with SCBR. Bless to each and every one of those who helped him through his surgeries and bring him back to health to live his golden year like a king. RIP Wally xxxooo

Wally sponsors will be moved to Bandit, sorry to confuse everyone.