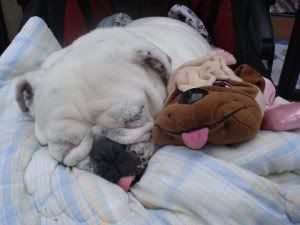 I have some very sad and heartbreaking news for you all and especially the hospice sponsors of Pearl. I received this message this morning from SoCal Bulldog Rescue and Pearl's foster mom:
Please send prayers and well wishes to Vicki in the comment boxes below and let her know how much we enjoyed being a part of Pearl's life, and I know I was honored to help Vicki give her what she needed to the very end. Bless you Vicki for giving her the life she should have had all along.

IMPORTANT NOTE FOR CURRENT PEARL SPONSORS:
So Cal has many other dogs in their care so what I will do is transfer all donations to another dog or dogs in their care. So please do not cancel your sponsorship supscription as your donations are still needed to help this wonderful organization pay for numerous monthly expenses. Once we transfer your sponsorship you will receive a new award in your profile for the next bully who needs our help! Thank you so much for helping.
If you are not yet a hospice sponsor and want to sign up for a monthly donation and learn more about this program,
CLICK HERE