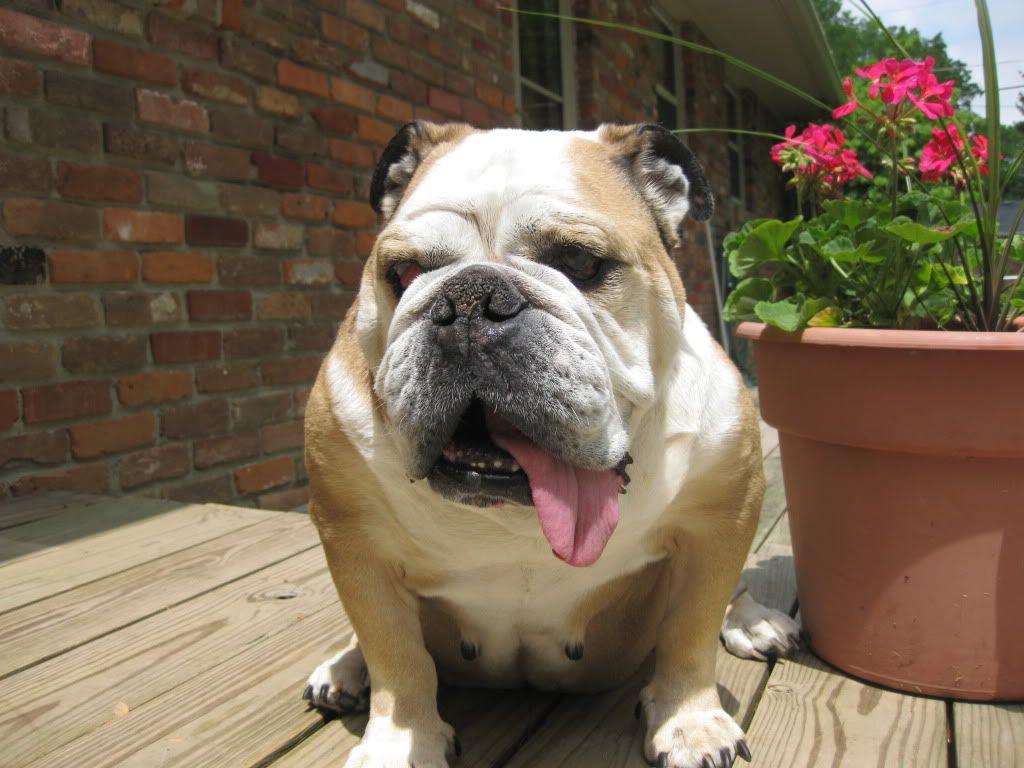 <3
<3
<3
<3
<3
<3
<3
<3
<3
<3
<3
<3
In Memory of Danica, her support will continue and help another bulldog in need.
RIP sweet girl, all of us at EBN will miss you! xxoo
We received some sad news yesterday in our Hospice Sponsorship Discussions board from Indiana Bulldog Rescue.
"I'm saddened to say Danica passed away late last night on her way to the hospital. She was having trouble breathing and by the time they got there...Danica was gone. The entire IBR family is heartbroken. We want to thank you all for all your support and love you have shown this sweet girl...we are truly grateful!"
As we mourn her loss we would like to submit all this months Hospice Payments to Danica's foster family to cover any last expenses they have. Foster mom is going to write to us as soon as she feels better, she is very heartbroken right now.
To those of you who are currently sponsors of Danica, we are going to transfer your sponsorship to Max, and his story is below. If you wish to cancel your sponsorship, you can do so within your settings in your user profile. For those who do not cancel your funding will be going to Max starting after the 25th of this month, all funds received prior to the 25th will be given to Danica's foster family & IBR.
We would like to welcome our new Hospice, meet Max!
Max is a 10 year-old, almost 11, Bully that was an owner surrender to Indiana Bulldog Rescue. The owner had Max since he was a puppy and loved him very much! However, due to health issues that come with an aging Bully, the time commitment to care for them, the expense; posed it's challenges to a busy work schedule and became difficult to give Max the care he needed. With much sadness, Max's owner knew that the right thing for Max was to surrender him, so he could get the medical attention and care he needed.
With Max's age and health issues, IBR was sure that Max was going to need to be in a permanent foster home. Finding a permanent foster isn't always that easy and we knew we had our work cut out for us! Just after a few days of getting the word out, one our amazing volunteers/foster - John and Sheri Miller, stepped up and said they would take Max in! This was a great match for Max, as they are semi-retired and work from home. We knew Max would get everything he needed and more!
Max is blind and deaf. He also has chronic ear and eye infections, as well as some skin issues. In addition he is not neutered. His foster mom is working on getting his ears, eyes and skin infections under control. Once these things are stable, he will be able to be neutered. Now that Max is getting the medications and care he needs, he is feeling much better. Max is very laid back and doesn't get excited about much but you know he is happy by his tail wiggles! Max is a very sweet old soul! In Max's foster home he has two Bully sisters that have found the compassion to welcome Max and share the love!
Due to Max's age and health conditions he requires multiple daily medications for his eyes, ears and skin, which will be required for the rest of his life. This also means many trips to the vet and a lot of care from his foster mom.
We have already had cancelations for Danica's sponsorship, so Max will need sponsors. If you are interested in becoming a sponsor, click the following link:
http://www.englishbulldognews.com/forums/payments.php