I was always handsome but don't let my good looks fool you! I didn't feel too good!
Woof, woof! Hi! Iím Linus!
I have always been a handsome fellow but despite my good looks, I didnít feel so good sometimes. You see, when my mommy got me, she fed both me and my big brother Bentley Royal Canin Bulldog Formula dog food. We really liked that food but we LOVED it when mommy put some soft food on top! It tasted so good but it was so bad for us because it was full of junk food like corn and salt. It figures that everything that tastes good is bad for you! Mommy also gave us a lot of goodies like Busy Bones and Snausages that were also full of not so good ingredients.
I was happy when I was eating those things but sometimes I didnít feel good. My paws would get itchy, I had some skin problems and the worst were these horrible ear infections. One time, my ears got so bad, I didnít want anyone to pet my head! It hurt!
Last June, my big brother died. Me and my mommy were so sad. Mommy tried to make me feel better and show me how much she loved me by giving me things like ice cream and cookies and other human foods. Boy, I loved those goodies but I didnít feel good after I ate them. My ears got even worse and I developed a really itchy hot spot on my side Ė right on my beautiful white coat!
I was feeling pretty grouchy when mommy brought home by little brother Truman Ė and it wasnít because Truman barked ALL the time either! My allergies were so out of control! I was so miserable that mommy had me tested for Valley Fever because I started hiding because I felt so bad. My eyes even looked smaller because my face was all swollen!
Then my mommy said ďthings are going to change!Ē She bent down and told me she loved me and wanted me to be happy so we were going to start eating better. YUM! I love eating! Mommy went on the English Bulldog News website and discovered, even though she thought she was doing the right thing, she was feeding me bad food that was making me feel terrible. I tried out a couple different foods but FINALLY we found a great one that I love to eat! Itís called Natureís Variety Instinct and it comes in lot of great varieties. I like the beef and lamb, myself! It is grain free, potato free, and thanks to the great advice of everyone at English Bulldog News, I am ear infection free!
Not only do I not have chronic ear infections anymore, I also smell great, look even more handsome, and you should see how white my fur is now! Oh, and I also lost 5 pounds! Look at me now!
Now, I still do not like eating fruits or vegetables at all Ė I give those to my little brother Ė but mommy found some great grain free treats that I love so I am still very spoiled. But now that Iím eating better, I feel as great as I look and I am looking forward to living a long and healthy life!
Thank you mommy and thank you English Bulldog News members for making me feel like a new dog!
Other Articles of Interest:
Dog Food Ratings
Understanding Dog Food Labels and Finding Bad Ingredients
Frequently Asked Dog Food Questions
Click to view our Great Products forum with Food Recommendations!
Q: Where can I find these foods?
A: You can usually get it from your closest feed store. If they do not carry it, ask if it can be ordered for you. Most feed stores can get many different types of food that is not on their shelf. But we found the best place, and that is to order it online, delivered right to your door, at very competitive prices. I was actually paying about $8 more per bag at my feed store that was over 20 miles away!
Get FREE shipping on all orders over $49
for life
! Set up a shipping schedule so you never run out of food. Schedule can be changed, food can be changed, easy to schedule and EXCELLENT customer service!
Ready to try Petflow? Click Here!
Use CODE at checkout: Bulldog25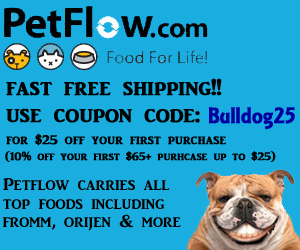 Do you have a Dog food story to tell?
Share your story with us today and show other owners what a good dog food can do!
E-mail us the following information to:
webmaster@englishbulldognews.com
1.) Your dog's name
2.) Two or more pictures of your dog on the new food
3.) One or more picture of your dog prior to the change
4.) Tell us what issues you were having prior to the change
5.) What brand of food you were using
6.) What brand you are using now
7.) Tell us how it changed your dog's life for the better.[/CENTER]