Meet Horse Then:
For the first 4 years of Horse's life, I fed him beneful, dave's brand (multiple varieties), then eagle pack lamb and rice. He had earned the nickname "stinkhead". Horse's face always smelled reallyawful, it was red all the time. His eyes were always bloodshot and irritated, with constant eye boogers. Horse had what we called "chacne"-chin acne. He was always licking and chewing on his feet. Horse's body was always itchy too. You couldn't pet him without him wanting a full-body itching! Horse was also having bowel movements about 5 times a day.
"Horse says goodbye to his nickname"
I had always heard that English Bulldogs had a lot of allergies, and there wasn't much you could do about it.I never thought he could be allergic to his dog food, nor did the vet suggest it (we've since switched vets). As for the "stinkhead", I just thought that's how he was, a stinky dog.
In April, Horse developed diarrhea. After a few days, I took a stool sample to the vet which turned out negative. So, I fed him only boiled hamburg and rice until his stools firmed up. I began to read everything I could on English Bulldog News about what could be wrong with Horse. I came upon a post from Lindathedogsmaid about dog food. So, after e-mailing her, and getting her (well-researched) opinion I decided to switch Horse to Nature's Logic Lamb.
Within days there was a noticeable difference in Horse. My "stinkhead" was not as stinky, less itchy, red, and had fewer stools. After a month he looked like a different dog. Everyone who saw him asked why he was so white and clean looking! Horse has been eating Nature's Logic for almost 4 months now (first lamb, then beef, now back to lamb because the beef seemed to bring back the "old" Horse a little bit), and I can't believe what feeding him a quality dog food has done for him. Horse has big brown bully eyes now, and they are no longer bloodshot unless he's worked up. His face is white, "chacne" is gone, and I only have to wipe his morning boogers out of his eyes. You can pet him now without having to itch him. Horse now only poops twice a day, and they're nice, firm, easy to pick up ones! He is a much happier bully now, and no longer has the nickname "stinkhead".
Thank you English Bulldog News, lindathedogsmaid, and all of our helpful members for all of your answers and information. We are so happy we stumbled upon the site! Horse is bully-proof of what feeding your dog quality food can do.
Bully hugs and kisses, Horse, Lauren+Braeden
Meet Horse Now!
2 weeks after the switch
2 weeks after the switch
2 months after the switch
3 Months after switch on a hot active day
Other Articles of Interest:
Dog Food Ratings
Understanding Dog Food Labels and Finding Bad Ingredients
Frequently Asked Dog Food Questions
Q: Where can I find these foods?
A: You can usually get it from your closest feed store. If they do not carry it, ask if it can be ordered for you. Most feed stores can get many different types of food that is not on their shelf. But we found the best place, and that is to order it online, delivered right to your door, at very competitive prices. I was actually paying about $8 more per bag at my feed store that was over 20 miles away!
Get FREE shipping on all orders over $49
for life
! Set up a shipping schedule so you never run out of food. Schedule can be changed, food can be changed, easy to schedule and EXCELLENT customer service!
Ready to try Petflow? Click Here!
Use CODE at checkout: Bulldog25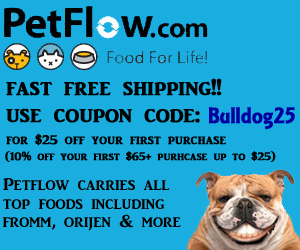 Do you have a Dog food story to tell?
Share your story with us today and show other owners what a good dog food can do!
E-mail us the following information to:
webmaster@englishbulldognews.com
1.) Your dog's name
2.) Two or more pictures of your dog on the new food
3.) One or more picture of your dog prior to the change
4.) Tell us what issues you were having prior to the change
5.) What brand of food you were using
6.) What brand you are using now
7.) Tell us how it changed your dog's life for the better.