Meet Samson Then:
Samson has severe allergies. Before, his face was always red and sore, and his paws were red and full of yeast from his constant licking. Sometimes he even bled in between his toes. His Mommy Tessa tried several foods and put Samson on the proper medications for his allergies.
Samson gets a twice daily antihistamine, atarax, that helps manage his allergies. Tessa only uses a hypo-allergic soap/fragrance free shampoo at Samsonís bath time and ONLY gives fruits and vegetables as treats. When Samson was ~ 1.5 years old Tessa discovered that Natural Balance Sweet Potato & Salmon was a great food for Samson. He got 2 cups a day with a wild alaskan salmon oil supplement on his kibble. Samson did wonderfully on Natural Balance for over 2 years.
However, at the age of 4 Samson developed his first ear infection. Over a six month period, numerous trips to their veterinarian were made and numerous medications were prescribed during those visits to fight Samsonís ear infections. Nothing worked until Tessa came across some very valuable information from the wonderful members here at English Bulldog News. Other members having similar issues with ear infections came across information indicating that potatoes may increase the growth of yeast (one of the causes of ear infections). A food was suggested to help with allergy and ear infection prone bullies, Natureís Variety Instinct which is both grain and potato free. Tessa made the switch to Natures Variety Instinct, salmon formula, and within 2 weeks of the switch his ear infections were gone! Now 6 months after the switch there has still been no ear infections!
It was not diet alone that saved Samson from a miserable life of allergies, but it was a
huge
part of the recovery process for this poor boy.
Every once in a while Samson still has an allergy attack, but with the right meds, dog food, and human companion he now lives a wonderful healthy life. Prior to feeding Natural Balance and now Natureís Variety Instinct, Samson was eating Iams and Nutro. As you can see, by the before and after pictures, what a difference switching from a low grade dog food to a nutritious dog food has made in Samson's Life!
Meet Samson NOW!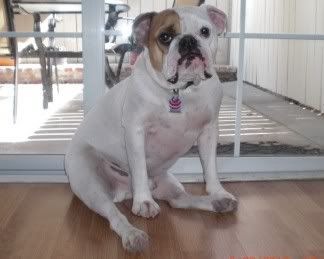 Other Articles of Interest:
Dog Food Ratings
Understanding Dog Food Labels and Finding Bad Ingredients
Frequently Asked Dog Food Questions
Q: Where can I find these foods?
A: You can usually get it from your closest feed store. If they do not carry it, ask if it can be ordered for you. Most feed stores can get many different types of food that is not on their shelf. But we found the best place, and that is to order it online, delivered right to your door, at very competitive prices. I was actually paying about $8 more per bag at my feed store that was over 20 miles away!
Get FREE shipping on all orders over $49
for life
! Set up a shipping schedule so you never run out of food. Schedule can be changed, food can be changed, easy to schedule and EXCELLENT customer service!
Ready to try Petflow? Click Here!
Use CODE at checkout: Bulldog25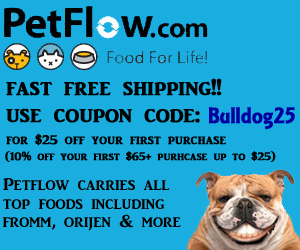 Do you have a Dog food story to tell?
Share your story with us today and show other owners what a good dog food can do!
E-mail us the following information to:
webmaster@englishbulldognews.com
1.) Your dog's name
2.) Two or more pictures of your dog on the new food
3.) One picture of your dog prior to the change
4.) Tell us what issues you were having prior to the change
5.) What brand of food you were using
6.) What brand you are using now
7.) Tell us how it changed your dog's life for the better.