Meet Molly Then:
Molly had horrible tear stains, yeast on her paws, was always itching and paw licking.
Molly had been fed Iams all of her life. Notice the yeast on her paws, bad tear stains, bad yeast infection under her rope wrinkle, she even had yeast on her tummy! Although we never had any health issues with her, one day she broke out into an allergic reaction to something. This allergy turned into a severe skin infection. The vet prescribed allergy medication and antibiotics, along with medicated shampoos.
After 3 weeks, she improved, but she was still not back to her usual dog, and we were becoming very concerned with how long she had been on these medications. If we did not give her an allergy pill, she would start itching again profusely! After reading what other owners were saying about dog food here in our fourms, we decided to make the switch. We were very dissapointed to find out the we were feeding our dogs a "1 star" food.
We chose Avoderm Ovenbaked Lamb & Rice, and sprinkled with bottled "Wild Alaskan Salmon Oil". Within 1 day I had her off the allergy medication. Within 3 days she stopped itching. Within a week her hair stared to grow back. Within 2 weeks her tear stains and paw stains were gone.
Within a month she was a whole new dog!
I am very pleased with the results of Avoderm and Salmon Oil. The first thing you notice is when you open the bag of dog food, it smells wonderful. Not like grease, like Iams did. It is also light tan in color. No added ingredients that contain dyes. I believe this is why Molly's tear stains have completely dissapeared.
Once I began doing heavy research on dog food and trying 10 different brands, I finally settled on the Fromm 4 Star line. All 5 of my bulldogs have very little tear staining, smell great, are energetic, and rarely have any allergy issues.
I hope sharing Molly's story with you will help you make the choice to swich to at least a 4 star rated dog food.
When I compared the prices vs. the amount to feed each day, it ended up costing very little extra. Less waste to clean up daily certainly helps too!
Meet Molly Now!!
Hi There! Am I gorgeous or what?!
Not a tear stain in sight!
I smell so good everyone loves to play with me now!
Look at how pretty my paws are!!!
Look at my beautiful shiny and soft coat!
Other Articles of Interest:
Dog Food Ratings
Understanding Dog Food Labels and Finding Bad Ingredients
Frequently Asked Dog Food Questions
Click to view our Great Products forum with Food Recommendations!
Q: Where can I find these foods?
A: You can usually get it from your closest feed store. If they do not carry it, ask if it can be ordered for you. Most feed stores can get many different types of food that is not on their shelf. But we found the best place, and that is to order it online, delivered right to your door, at very competitive prices. I was actually paying about $8 more per bag at my feed store that was over 20 miles away!
Get FREE shipping on all orders over $49
for life
! Set up a shipping schedule so you never run out of food. Schedule can be changed, food can be changed, easy to schedule and EXCELLENT customer service!
Ready to try Petflow? Click Here!
Use CODE at checkout: Bulldog25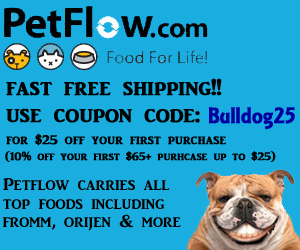 Do you have a Dog food story to tell?
Share your story with us today and show other owners what a good dog food can do!
E-mail us the following information to:
webmaster@englishbulldognews.com
1.) Your dog's name
2.) Two or more pictures of your dog on the new food
3.) One picture of your dog prior to the change
4.) Tell us what issues you were having prior to the change
5.) What brand of food you were using
6.) What brand you are using now
7.) Tell us how it changed your dog's life for the better.