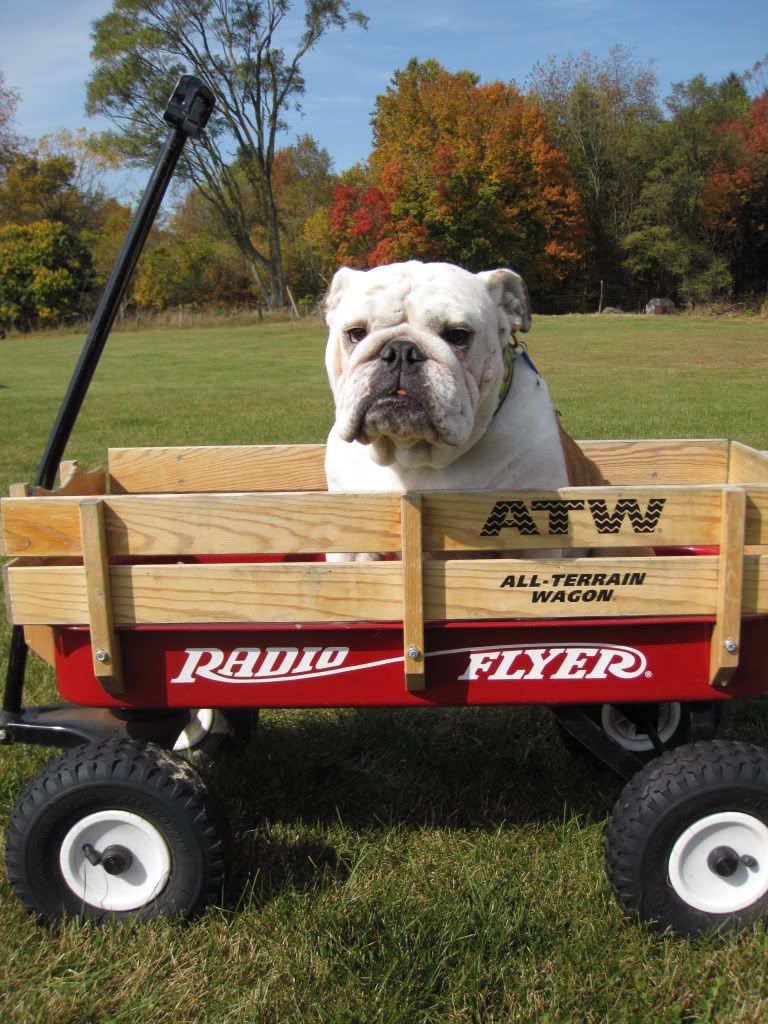 Whenever you view a website or become a member of a forum, you read, you post, you log out. Well, I am here to tell you there is
so much more
you can do at English Bulldog News! Besides reading this article, make sure you check out the tutorial section to learn more about our site and the fun features available to you!
View the Photo Gallery.
With hundreds and hundreds of gorgeous photos of our members bulldogs, you will surely get plenty of bully eye-candy. These photos come from our users photo albums that they have added to their profile. Love a photo? Then place a comment for the user who shared it. They will receive a notification that they have a picture comment.
Click Here to view the Photo Gallery




Earn Awards & Achievements
Hey, getting awards is fun. Even if they are virtual! We have approximately 100 total awards & achievements available!
Click Here to view Available Awards
Click Here to view Achievements


Earn Bully Bucks
Yep, you heard it. You get PAID to be here. There is many ways to earn Bully Bucks, and the best part is you get to spend them in The Bully Market. Get free dog food, give virtual gifts, you can even donate to your favorite Bully Rescue or to the Susan G. Komen Foundation!
Click Here to learn all about Bully Bucks and the Bully Market




Increase your reputation, and give reputation.
The little heart symbol under a post is for user reputation. If you think someone deserves a good reputation for excellent posts, click the Heart Button and insert a message about your thoughts. Users get points that turn into "Bully Bucks", and the uses who GIVES and RECEIVES the most reputation in the month receives the monthly "Notorious" Award for Reputation.
Click Here to learn more about Reputation.


Become A Hospice Sponsor
Many rescued English Bulldogs are never adopted due to their age or health condition. They are in foster care with rescue forever. We help cover the cost of food and prescriptions for these bulldogs through our Hospice Sponsorship program. To view the program details and learn more about becoming a Hospice Sponsor, view this page




View Adoptable Bulldogs from all over the USA and Canada!
Our Rescue Moderators search rescues and post English Bulldogs for Adoption. There is usually more than 200 bulldogs listed at any given time. Browse the rescue closest to you, and you never know, maybe one of these bullies will pick YOU for a future Fur-mate!
Click Here to view the Adoptable Bulldogs Forum


Enter our Photo of the Month Contest!
Each month we have an awesome contest for the best bulldog photos! Our Sponsors provide fun prizes, and who doesn't love a photo contest? Enter to win today!
Click Here to learn more!


Blog your thoughts
We also have a Blog section. A blog is a journal, or an online diary of sorts, and it is a great way to keep tabs on your bullies, or just to record you thoughts. Members can read and comment on blogs, but you must be a 4 Paw Member to create a blog.
Click Here to view the Blog Section



Play in our Free Arcade
We have a FREE arcade with over 1000 games! Your high scores are recorded, and you can also create and enter tournaments too! Can you become King of the Arcade?
Click Here to go to the Arcade


Fun User Titles
We have created many different User Titles here at English Bulldog News. When you first arrive, you are a 'newbie'. But the more you post, the more your title will change.
Will you be a wrinkle wiper? A petsitter? On Bully Booty Duty?
Just keep posting to find out what your next 'job' will be!
*4 Paw Members can enter a custom user title.


Get fresh advice and ask for help if you need it
You may have found our page through a search engine, and have a similar problem as a past user. You can post any question you have regarding your bully and get the best advice ever- from fellow bulldog owners. Our community thrives on helping save bullies and their owners. We would rather you ask for help then to give your beloved bully away- thinking there is nothing else you can do and you are at your wit's end. Even if we have to answer the same questions 1000 times. We don't care, we want to help- so don't be shy!


The Gateways to English Bulldog News
Our home page is of course one of the main gateways to our website. But viewing the Community Page and the Forum Page can link you to anywhere and everywhere on the site. Just click the "Community" or "Forum" tab right under our logo.


Check out the Dog Food Ratings
What do you feed your bulldog? This is the most important thing you as an owner can do for your bulldog. You bulldog will love you for it, and you will love us for telling you about it! Also view our forum about English Bulldog Nutrition. Read all of our dog food, vitamins, supplement and treat discussions. You will be surprised at what you will learn.
Click Here to view the Dog Food Ratings
Click Here to view the Nutrition Board


4 Paw Membership
4 Paw Members get premium forum benefits, such as an advertising free zone, larger profile & avatar pictures, ability to create a Blog, access to the 4 Paw Members board, the ability to vote for our monthly photo contest and more. Find our more about 4 Paw Membership below:
Click Here to learn more about 4 Paw Membership


Member Spotlights
Get to know the members of English Bulldog News a little bit better by reading their biographies.
Click Here to view the member spotlight section


We do hope you enjoy these fun additional features to our site!