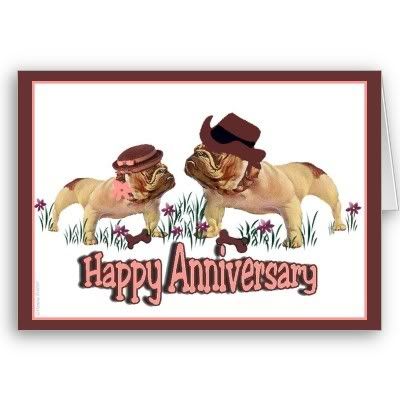 Rewind..... over 16 years ago we got our first English Bulldog. Her name was "Baby". She was our first child, and we loved her more than anything in the world. Since then, we had always had bulldogs in our lives. We had an obsession with them, and never imagined we would meet other people who could ever understand our love for English Bulldogs.
Fast Forward to January 25th, 2010. We decided to open a forum about English Bulldogs. But we wanted it to be more than just a standard forum, we wanted it to bring bulldog lovers together and also provide a little something more. We wanted awards that could be earned. We wanted users to be appreciated by sharing and providing helpful information. We both had time off of work, so it was 'now or never'! We ordered the software, and spent three days trying to install it. We were clueless! We thought to ourselves.... wow this is going to be harder than we thought! We had never spent so much time on our computers. Finally, on January 29th, 2010 we opened the forum. And we waited. And waited. I guess opening the forum was the easy part, now how do we get members? We found out soon enough that we had to advertise!
With the help of free and paid advertising sites, and then social media like facebook and twitter, we were able to bring bulldog lovers from all over the world to our site. But we never rested, we continued to search for things to add to the forum to make it fun. Then Chip was back to work full time and Lisa took over the site, and became more obsessed than ever.
We started the Photo of the Month Contest immediately. We would like to send a special thanks to those who have helped us make the Photo of the Month contest possible. Starting with Pendragon, who sponsored the first photo of the month contest. Also a special thanks to paws4deals, A to Z vet supply, Lou's Doggie Boutique, Carolina Pet Pantry, Fromm Family Foods, Nature's Logic Pet Foods, London Canine Couture, Petflow, Arm the Animals, and Dan Carrison (the author of Bill at Rainbow Bridge), who have all sponsored contests with us this past year. Without sponsorship, we could not have made this such a fun part of English Bulldog News!
We also were able to raise money for the site, and both humans and bulldogs in need. Special thanks to Carolina Pet Pantry, Lou's Doggie Boutique, London Canine Couture, Plus Size Pups, Petflow, Paws4Deals and LariP for helping us with fundraisers in this past year. With a combination of donations, contests, bully market donations, and fundraisers, English Bulldog News raised and donated over $2,300 to rescue organizations and the Susan G. Komen Foundation in the year 2010. We are very proud of this, and hope we can double this number in 2011.
But that is only the beginning. We are certainly not "Tooting Our Own Horn", because English Bulldog News would be NOTHING without the members who not only registered, but also took the time to help other bulldog owners in need. Endless discussions on medical issues, daily care, and nutrition became one of the greatest parts of the forum. Nothing is better than knowing that we, as a group, helped a bulldog owner who was need. A special thanks to the moderation team who helped with ideas and topics, and also helped keep us sane when needed. TessaAndSamson, cali~jenn, LisaRN, Libra926, bbstubbles, Telly03, kazzy220, KMARINO, jillh10, and Bella'smom, thank you so much.
One of the greatest achievements we think the site has made was educating people on caring for their bulldogs. And it was not us- no no NO no no! Each time we needed answers we seeked out information from our vets, other members, and research. The most important thing that was brought to light to us was dog food and nutrition. We thought we had cared for our dogs over 16 years by giving them great food. BOY WERE WE EVER WRONG! We did our first dog food change and realized we had been feeding horrible junk to our dogs for 16 years. We saw first hand the effect that a poor diet could do. Our Bulldogs looked like new dogs once we changed foods! We were amazed to say the least. The difference was not suttle, it was extraordinary! So we decided that this was also going to be a goal for us to educate pet owners about dog food.
Once we began to see all of the rescue dogs out there that needed homes, we felt we need to help in any way we could. We wanted to cross-post bulldogs who were available from adoption, but we knew the task would be too immense to do on our own. So we seeked help, and we got it from a wonderful lady. dontshop--adopt became our first ever 'rescue moderator' and cross posted over 100 dogs. Thank you dontshop--adopt for helping us make this part of our forums a very important one. The rescue moderator team was born, and now we have an awesome team who makes this happen. So thank you to Telly03, Bella'smom, gatorfan85, savemejeebus, dontshop--adopt and the newest member of the team, dozersmama, who take the time out of their schedules to continuously post bulldogs who need to be adopted.
With the help of the members the idea for the "Our Bullies, Then & Now" pages were born. Then on the same exact day, Chip (aka bulldog) and Champ thought about doing the same for rescue stories. Talk about "meant to be!" Champ assisted in putting together the first ever "Rescue, "Then & Now" story, which became one of the most tear-jerking articles and pages on our site. Finally, we added the "Dog Food, Then & Now" to show the difference a dog food change could made. These are some of the greatest, and most unique pages at our site, and we are proud to have them.
Our members are the greatest group of bulldog owners out there. Everyone is respectful and (almost) all have followed the forum rules. Our forum is for BULLDOG LOVERS. Period. We pride ourselves that all are welcome here. Other bulldog breeds, people who just love bulldogs but do not have one, rescues, (good) breeders, and owners alike, all sharing and giving advice. It does not get any better.
We have laughed. We have cried. We have worried. We have helped. We have become one of the best places to share bulldog love on the internet, and we are so very proud of our members who helped us make English Bulldog News what it is today. We could not have done it without you.
In honor of this special occasion, we created the "2011 Anniversary Awards", where the 4 Paw Members nominated and voted on their favorites for many fun categories. Each of the users will receive an award for their user profile. If the difference was by only 1 vote cast, I have also included a runner-up. This was quite fun so now it is time to announce the winners!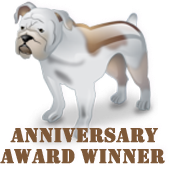 And the winners of the 2011 Anniversary Awards are:
*Honorary Awards:
Most Reputation Earned by points in the past year: jillh10
Most Reputations Received in the past year: Libra926
User who posted the most in the past year: cali~jenn
First Ever sponsor of our Photo of the Month Contest: pendragon
User who created the most posted in topic on the forums in the past year: Bella'smom, created topic "Recipe Swap". LariP filled it with tons of recipies!
User who created the most viewed topic in the forums the past year: Frances, who created topic "What do you feed your bull dog?", which has 4,494 page views!
*These awards were not voted on, but were given by using site statistics.
**Runner Up awards issued if only 1 vote behind winner
Most Interesting and Unique User Avatar: mom2bullies **runner up: TessaAndSamson
Most Interesting or Unique User Signature: cali~jenn
Most Interesting or Unique User Profile: gatorfan85
Most Interesting or Unique Username: savemejeebus
Most Talkative User: KMARINO
Biggest Sweetheart <3: cali~jenn
Funniest Poster: KMARINO **runner up: BruceP
Best Castaway Choice: Telly03 **runner up: NikkiSchoolcraft
Most Knowledgeable Poster: desertskybulldogs
Highest Quality Poster: jillh10 **runner up: Bella'smom
Most Helpful Poster: cali~jenn **runner up: gatorfan85
User Most Likely To Post Rather Than Eat, Sleep or Work: desertskybulldogs
User Most Likely To Break Their Computer Our of Frustration: Gertie's Mom **runner up: KMARINO
Horizon Award, Most Active New 4 Paw Member: bfletch13
Most Bulldog Obsessed: We have a Tie!! BruceP and Bella'smom, **runner up: Lindathedogsmaid
Best BullyTube Video: "Vegas Gets Caught!" by Libra926
Bulldog Awards:
Bulldog Most Likely To Become Famous: Vegas, owned by Libra926
Most Spoiled Bulldog: Her Royal Highness, Princess Gracie, owned by BruceP & LariP
Most Spunky Bulldog: Orion, the PITA, owned by Libra926
Most Photogenic Bulldog: Norman, owned by bulldog family **runner up: Lex, owned by lexterwayne
Thank you all again, we cannot even begin to thank you enough, for being such a wonderful group of bully lovers!
Happy Anniversary Everyone!