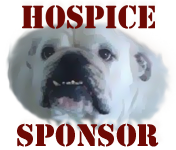 English Bulldog News has started a new program/fundraiser that we are very proud to tell you all about. This program will be the sponsorship of Hospice Bulldogs. These are the bulldogs that almost all potential adopters cannot adopt, due to their medical conditions or age, and have found their fur-ever homes in rescue, where they will be loved and cared for until they go to the rainbow bridge.
Now in steps the 'fur-ever' foster home. These foster mommies and daddies take care of them until they finally go to the rainbow bridge, and give them the home they should have always had. It takes a special foster to care for these hospice bullies, many of them require around the clock care, medications, diapers, and a special diet.
These sweet babies also become a financial strain on the rescue organization, because some of them have many in their care. So we at English Bulldog News thought, "what if the members banned together and helped sponsor some of these dogs?" And the Hospice Sponsorship program was born, starting with Pearl, also known as 'Hula Girl'.
It all started when we saw a fundraiser for hospice English Bulldogs for Christmas. This opened our eyes to these beautiful bullies. Then we read Pearl's story, which was asking for sponsorship. We then found out how much it costs the rescues to keep these dogs in their care every month. And with the help of many members, the Hospice Program was born!
We will be adding more bullies who will need sponsorship, and all you have to do is sign up. Then each month the amount of your monthly donation will be withdrawn out of your paypal account, you need to do nothing. For as little as $5 a month, you can help support Hospice Bulldogs in need. You will also get access to a new board for hospice discussions that can only be seen and posted in by hospice sponsors and an award to display in your award showcase.
Please view this link to see the bulldogs who are in need of sponsorship:
http://www.englishbulldognews.com/forums/payments.php
If you are a rescue with non-profit 501c3 status that has a bully who needs sponsorship, please contact
webmaster@englishbulldognews.com
It all started with Pearl, who has now moved on to the rainbow bridge but her story will forever be imprinted on this whole program.
Here is Pearl's story (aka Hula Girl):
Pearl's Story
by SoCal BulldogRescue on Saturday, December 18, 2010 at 11:09pm
Pearl (aka Hula Girl) came into Rescue from the animal shelter in January 2009. They estimated she was 7 years old. Pearl was crated her whole life and used as a puppy machine. Her legs and elbows did not develop properly since she was crated and was unable to walk. When touched she cried in pain… but that never stopped her tail from wagging! Pearl went directly to our vet for an exam and spay and it was discovered that she had a softball-sized tumor on her ovary. The doctors determined the tumor was cancerous and gave her 4 – 6 weeks to live.
A dedicated Rescue volunteer took her home for hospice care. Pearl was very sick and took quite a long time to recover. She would try to stand, only to tumble over. But, as the days turned into weeks and then months, Pearl seemed to get stronger and was able to take a few steps. Now, nearly two years later, Pearl's tail continues to wag as she returns to a happy life. She needs daily medications and supplements, and requires special prescription food. Please open your heart to this girl and sponsor her so she can live out her days in comfort and happiness – she deserves it.