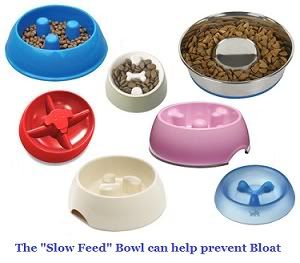 Bloat is a medical condition in which the stomach becomes overstretched by excessive gas content. It is also referred to as torsion, gastric torsion and gastric dilatation-volvulus (GDV) when the stomach is also twisted. Bloat typically manifests through gastric distention, expansion of gas, fluid and/or food in the stomach and is usually the result of large hastily eaten meals, possibly followed with large amounts of water, and finally considerable amounts of exercise, usually within the first few hours after eating.
Bloat is caused by rapid eating, eating dry food that contains acid as a preservative, eating dry foods that contain fat among the first 4 ingredients, the dilution of gastric juices necessary for complete digestion by drinking water before or after eating, eating foods such as kibble that expand in the stomach, overfeeding, drinking too much water quickly, exercise before and especially after eating, build and physical characteristics (dogs that have a deep and narrow chest). Additionally, bloat has been observed to be brought on during times of stress, during boarding, mating, change in routine, etc.
Symptoms of bloat include, standing uncomfortably and seem to be in extreme discomfort for no apparent reason, firm distension of the abdomen, weakness, depression, difficulty breathing, excessive drooling, retching without vomiting, collapsing, hunched up appearance.
Bloat is an emergency condition, having the animal examined by the vet is VERY important. Bloat can be fatal in a matter of minutes. In treatment, the veterinarian will attempt to decompress the stomach by passing a stomach tube. However, in many cases, surgery is needed to save the dog.
An ounce of prevention is worth a pound of cure! To prevent bloat feed 2 or 3 smaller meals daily (as opposed to 1 large meal), any changes in the diet should be made gradually (over a period of at least a week), vigorous exercise, excitement and stress should be avoided from 1 hour before to 2 hours after meals, excessive drinking should avoided, feed a highly digestible food. Dog breeds known to be more susceptible to bloat are, Great Danes, Weimaraners, Saint Bernards, Gordon Setters and Irish Setters.
My own personal note on the subject of bloat, while they arenít listed as breeds at high risk for bloat I canít see why all brachycephalic dogs arenít considered to be at high risk (squishy faced dogs like bulldogs, pugs, boston terriers, etc). These dog breeds are known to inhale more air while eating which is what causes them to be so flatulent. That would indicate to me that they were more susceptible to bloat but I did not find that in anyof my research, this is just my theory.