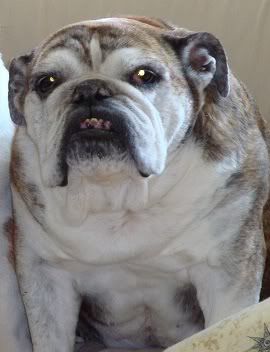 Story Written By Abby's mom, Heather Stinson:
Memorial weekend 2002, Detroit Bulldog Rescue received a call from a Jackson Michigan animal shelter about a bulldog in need of rescue.
Upon arriving at the shelter, I met a beautiful, skinny little brindle bully. I was told her name was Abby, and that her owners dumped her because they did not want her anymore, and that she had been kept outside chained for her whole 5 and a half years. I was also told that she "liked to be called Jeb Jeb", which I thought was weird, but found out that when you called her that, her little tail started wagging! She weighed only 28 pounds.
I put her in my car, and off we went home. She was obviously scared, but very sweet. We found out that week that she was heartworm positive, and that she had a very advanced case of it, so we would have to break the treatment down over the course of several months. I was a difficult time, but she made it through, and by the time she was heartworm free (about 7 months later), she had already become part of the family, with myself, and her Doberman sister.
Once she was healed from the heartworm, we also found out that she had an elongated pallate, so she needed surgery on that to help her breathe, and also had a cherry eye which was fixed. It was very risky to put her under for surgery, but without having her pallate fixed, the vet thought she would not make it, as in addition to that, her lungs had been damaged by the heartworm, so she needed all of the help breathing that we could give her.
She recovered well, and has been an important part of our family ever since. About 2 years ago, she did develop a cherry eye, but the vet says it is not worth the risk to put her under to repair it, considering the damage heartworm did to her lungs and heart, so she is fine with the cherry eye. Obviously, Abby is a big advocate for heartworm preventative.
Abby "greets" each new foster bully that comes into the house, and lets them know that they are safe now, because they are in the rescue. She also lets them know in no uncertain terms that it is her house, not theirs, but she's willing to share for a while.
Abby's favorite food is bread, any type of bread, literally - she would rather have it than a steak! We lovingly refer to her as the "fun police" as she will not stand for any nonsense on her watch, and has been known to jump into the middle of some well meaning playful bullies, just to make them stop

She also does not particularly like any type of work boots, so if people come over with them on, she is immediately staring at their feet, and may actually nip the boots

In all, you could not ask for a better dog than Abby. I am so happy to wish her a happy 14th birthday on November 30th, and hope to celebrate many more with her, I love her very much!
English Bulldog News wanted to share Abby's story, not only her amazing story of rescue, but her amazing long life of 14 years. If Detroit English Bulldog Rescue would not have saved her, her life would have been over a very, very long time ago. We strongly encourage everyone to support your rescue organizations, of any breed, with donations and items they can use to help care for the animals they save.
To view Detroit English Bulldog Rescue's available Bulldogs for adoption,
CLICK HERE.
Happy 14th Birthday Beautiful Abby!